Jenny Simanowitz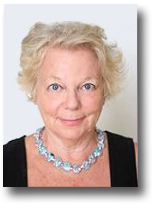 Jenny Simanowitz is an international Communications Trainer and Coach in German and English who has become well-known in Austria for her seminars, her lectures and her Communications Cabarets.
Jenny was born in South Africa and studied Literature and Drama at the University of Cape Town before moving to London, obtaining a teaching qualification at Trinity College Cambridge and working as a teacher and drama therapist.

In 1983 she moved to Germany and entered the business world, holding seminars and workshops in sales, corporate communication and conflict management.

Since 1996 Jenny Simanowitz has been living and working in Austria, where she has combined her business, dramatic and psychological skills to develop seminars and workshops in communication and presentation. Her emphasis lies in group dynamic processes, how we relate to others on a conscious and unconscious level and the fundamentals of successful relationships.


For many years she has researched into the roles we play in everyday life- following to some extent on Erving Goffman's "Presentation of Self in Everyday Life" in which she also lectures at Vienna University of Economics. Her work in this field led to the publication of her trainingsmanual " 100 Außergewöhnliche Stimmungsmacher " ( 100 unusual "Energizers") Ökotopia Verlag, 2008
and her second book " Performance Coaching" (Beltz Verlag 2016)

From her workshops, in which she uses many theatrical elements, she developed her "communications cabaret" which she now performs in Austria and Germany- in theatres, educational institutes and drama festivals.

Jenny Simanowitz is a founder member of the Positive Psychology Centre, Warwick University, England
Some comments from participants
Moderation and communication at Sandoz meeting
"It was really great having you as moderator and entertainer at our event. The feedback we have received so far says the same: Thanks for the outstanding job you did."
Global Head Marketing
Sandoz GmbH
"Hi Jenny,

I just wanted to say that the workshop from the past two days was
absolutley fabulous. I have never been to a workshop where I've had so
much fun or learned so much about myself. In the past when I've done
similar courses with role playing etc, I get so nervous and anxious. I was
on Friday when we first started, but by the time we recorded the skits
today I felt myself loosen up and actually begin to enjoy role playing.
Usually I'm so scared about what others think or that I'll make an idiot
of myself (I remember you touched on this in class :) ) I want to thank
you for creating such a relaxed, open atmosphere and I hope you know how
truly wonderful you and your workshop are.

From my experiences in Vienna, this was definitely the best class I've taken."

"Dear Jenny,

It was a distinct pleasure and more to have met you and hosted you here. You made a massive impression on my staff, a very heartfelt reaction on their part. They found you to be inspiring and very practical. Given that they are almost all very grounded and serious minded individuals, it is high praise, indeed, that you made such an impression. To put it simply, they do not suffer fools. They love people that have achieved and that can help them to achieve. You fulfilled all of their expectations. We would love to have you back.

I am in Vienna as often as I can possibly justify it, so I would love to meet up. Hopefully that will be sooner rather than later!

All my very best,

James"
James E. Rodehaver
Director, Human Rights Department