Happybusiness for Women
Since her days as a student in South Africa and later in England Jenny Simanowitz has been involved in projects involving gender and diversity.
Starting in 1997 in Austria she has developed programmes and seminars, lectured up and down the country on topics to do with women and gender and written numerous "communication cabarets" dealing with the role of women in society.
In recent years her emphasis has been on women and leadership, exploring such themes as hierarchical relationships between women and what she terms "the performance as leader".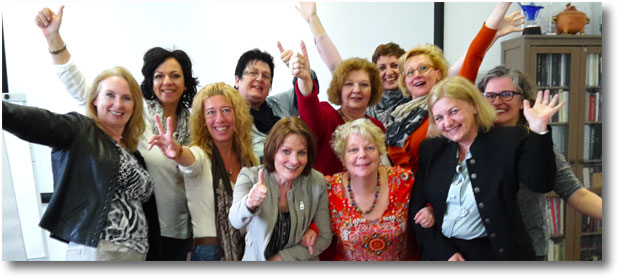 Below is a small excerpt from her work in this field
Co-development and Trainer for the EC Leonardo Project "Train-the-Trainer" for Women
Seminar "Woman Power" - for the Akademie der Führungskraft (Leadership Academy in Graz) and numerous other organisations
Gender in Science – British Council Vienna -International Conference for Women in Science
Gender Mainstreaming Courses for the Bundesministerium für Wissenschaft, Bildung und Kunst Vienna (Ministry of Science, Education& Art) and other organisations
Facilitation and Lecture for Genderalp (EC funded international Gender project)
Lecture - Sexual Abuse in the workplace - for Magistrat der Landeshauptstadt Linz
(Linz local council) and other organisations
Teambuilding Day for Gender Equality Commission for Magistrat Wien (Local Government Office)
2 day seminar on Gender and Diversity for Infineon, Villach and numerous other business organisations.
Development of 2 Day training course in Leadership for women
"Play To Win" (together with Dr Ingrid-Mylena Kösten, GF of "womanSuccess")
Self-confidence and self-assertion in working life
Women and Leadership for AMS Austria (Employment service)
2 day leadership seminar for women (2010 - 2018)
1 day seminars for "Frauenlounges" (Jour fixe for female leaders) throughout Austria
2011 - present
Communication Cabarets
2001 - "Der Kleine Unterschied" - (The Little Difference)
2003 - "Cabaret-of-the-Sexes"
2005 - "Partner..schaf(f)t"
2007 - "Sex & Business"
2009 - "We are woman"
2016 - "Who's Afraid of the Jewish Mother?"
These have been played throughout theatres in Austria and are used as a basis for many lectures, trainings and workshops.
Quotes:
"Jenny Simanowitz is a very original woman who has lots of power and charm and who has developed her experience, her philosophy and her art into an extremely intelligent and inspiring seminar experience!"
Kleinkunst.at
"Dear Jenny, you were again a hit! Already in your first performance at the Gender future Workshop you brought the right kind of swing and humour to the event.
Now, with this difficult topic of sexual abuse, you again managed to walk the line between sensitivity towards the seriousness of this topic and humour.
For this I'd like to express the greatest thanks!"
Gleichbehandlungsbeauftragter, Magistrat Linz ( Equality Commission, Linz)
"Jenny Simanowitz was the star of our event! Everybody was very enthusiastic. We are very happy that we were able to book her. The feedback was excellent and the success could be judged by the laughter which echoed through the room."
Raiffeisenbank Wels Süd reg.Gen.m.b.H.
"The Equality Commission of Vienna's Local Government see this lively form of training, in which there is a lot of parody and humour, as an excellent way to bring this topic to the participants."
Karin Kientzl, Gleichbehandlungsbeauftragte (Equality Commission), Friedrich Schmidt-Platz 3/1.Stock
"Our members were so enthusiastic about the evening yesterday that they immediately asked us to find a date when you could come again."
GZO Gründerinnen Zentrum Linz (Centre of self-employed women, Linz)
"The cabaret yesterday "Women and Men- what a theatre!" by Jenny Simanowitz was a great success! The theatre was absolutely full and the audience stayed and discussed the issues intensively long after the cabaret was over."
SPÖ (Socialist Party of Austria) Gender Mainstreaming Project
Feedback from Participants, "Play To Win " Gender Workshop for women,
October 2008
"This workshop really helped my development and I shall definitely recommend it to other women"
"A great seminar- competent, humorous, informative and intelligent! Thank you!"
"A very exciting and interesting seminar!"