What is happy business?
As the name suggests, happy business workshops and performances are based on the knowledge that when fun is integrated into the workplace and into the learning process it fosters creativity and results in improved performance.
How can we measure "atmosphere" in a group or company?
We measure atmosphere by the extent to which the members are prepared to be cooperative, how far they trust each other and how openly they communicate.
Which training methods does happy business employ?
The happy business method presupposes that people want to communicate in an honest and existential way, far removed from clichés or tricks.
We are eclectic in our methods and strive to use the best out of diverse training methods.
We also don't ignore what occurs "between the lines"- the so-called subconscious part of a communication process and employ the best of diverse training methods.
Why is humour such an important element?
When we understand the absurdity of human behaviour- and in particular how absurd our own behaviour often is- then we act more generously towards ourselves and our fellow humans. We don't take our weaknesses so seriously, we are less prone to stress and can concentrate on being creative.
That's what we all want to achieve: ...in the workplace and in the rest of our lives.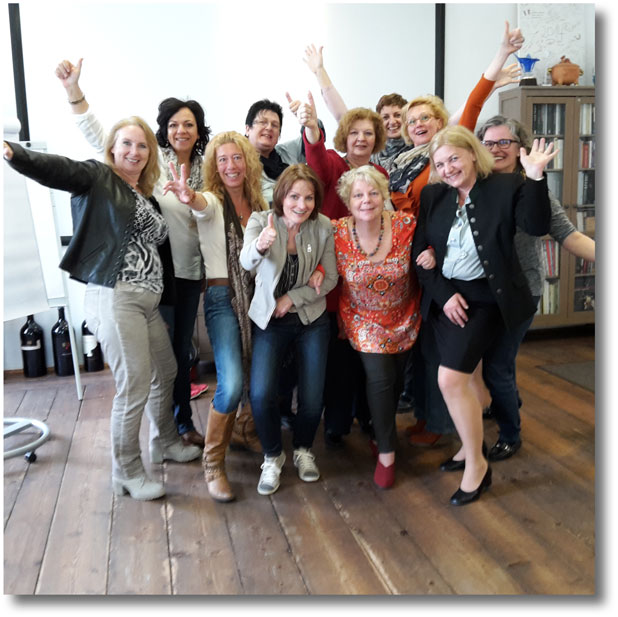 What is "communication cabaret"?
Communication Cabaret is a communication training in which communication processes are analysed, using theatrical and cabaretistic elements. This form of training can be very motivating because it shows that learning can be fun!
In which areas are happy business trainings effective?
For all areas where communication is of prime importance- manager training, client service, teambuilding, conflict management, sales...
With which corporations and institutions do you work?
We work mostly with large companies- Austrian and international, but also with smaller companies and non-profit institutions such as political institutions or women's groups. Workshops and performances are held in English or German.