GOOD VIBRATIONS
CHRISTMAS SHOW
PERFORMANCE IN (easy)ENGLISH
Jenny Simanowitz, Guy Barriere, Sylvie Trenous, Margaret Carter (singer) & Vira Zhuk (violinist)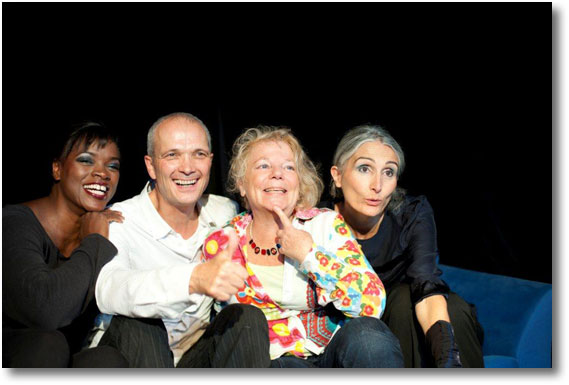 "Anyone who doesn't yet know this woman shouldn't miss the opportunity of seeing her on the stage!"
Der Standard- 9/2007
Watch extracts on You Tube:
http://www.youtube.com/results?search_query=Jenny+Simanowitz&aq=f
For many years Jenny Simanowitz, communications trainer and comedian, has imparted the message that the core of our creativity lies in our social relationships. She appeals for more consciousness about the underlying thought patterns that lead to inequality and discrimination.
Her latest Communication Cabaret is an inspiring stage-show in which she deals with questions such as "What is strange" and "Who is my type?"
Good Vibrations is a journey through different communication worlds in search of the answer to how " I" can approach "them" with warmth and generosity.
The show is a vibrant mix of cabaret inputs, comedy sketches, songs and interactions with the audience and moves between facts and fantasy, between art and reality and deals with the topic of diversity in a refreshing and lively manner.
Venue: Spektakel Theater, Hamburgerstraße 14, 1050 Vienna
Tickets: €17, Reduced: €12 ( special prices for groups of 5 or more)
Reservations: Tel: 01-5954124 oder office@happybusiness.at
Jenny Simanowitz was born in South Africa and studied Literature and Drama in Cape Town and London before becoming a teacher and drama therapist.
She has lived in Austria since 1993, and has combined her business, dramatic and psychological skills to develop seminars and workshops in communication. Her emphasis lies in group dynamic processes, how we relate to others on a conscious and unconscious level and the fundamentals of successful relationships.
Basically the communications cabaret combines light-hearted entertainment with the aim of raising awareness about the unspoken and unconscious messages which we communicate to each other. Her shows deal with perception of ourselves and of others, with conscious and unconscious status-games ( often expressed through our body language), with "acceptance and blocking" and with positive and negative interpretations of reality.
In good vibrations she performs with a supporting cast from five different countries!