"Courage!"
A communication cabaret (in Easy English)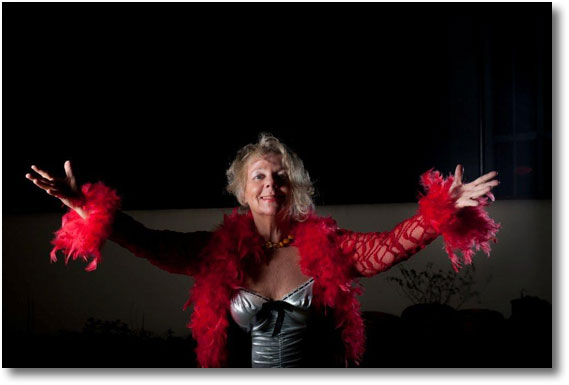 "Courage is her best show of late-cheeky, witty and up-to-date!"
In her new communication cabaret Jenny Simanowitz takes her audience to the heights of humour and the depths of reflection. "Courage" means daring to express what you are secretely thinking- about society, about love, about sex, about getting old, about your dreams...
In a performance that combines biting humour with affection and warmth towards her audience, Jenny encourages us to stand up to group pressure and see "Zivilcourage" as an inspiration for a happy life!
Jenny is accompanied in this show by Margaret Carter from North Carolina, an impressive singer with a powerful stage presence.
Over some years now Jenny Simanowitz has developed her successful Communication Cabaret (a combination of communication training and interactive theatre). She deals with socio-psychological topics such as our roles, our attitudes and our deep-rooted fears and prejudices. In her witty and goodhumoured way she inspires her audience to examine the unconscious motives that influence behaviour. Typical of her evenings is the light-hearted and personal atmosphere, which nonetheless provides food for thought!
Youtube:
Jenny Simanowitz and Margaret Carter sing "I KNOW WHAT I LIKE"
"Sauna Story" A South African visits a sauna in Austria